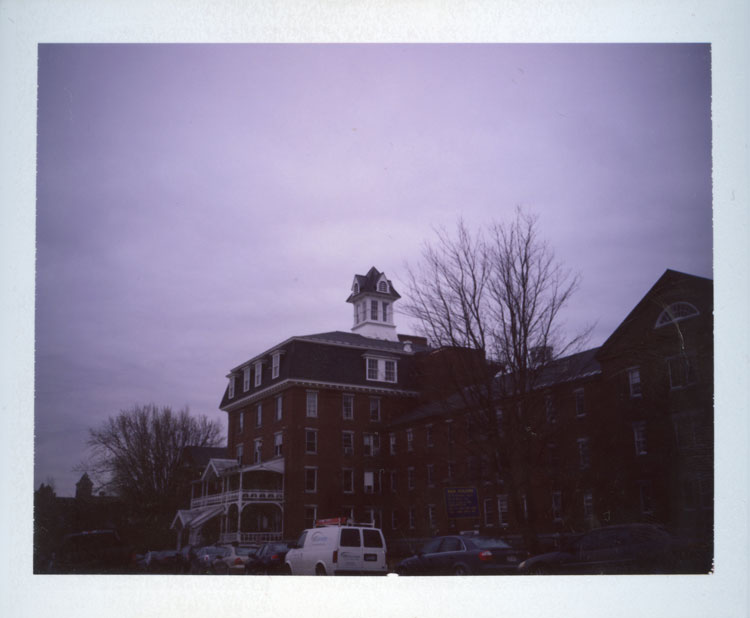 My Third Grade Teacher's Father State Office Park
When I was a kid, my mom had a worker's comp hearing in Concord on the grounds of the old state hospital. I could think of nothing more exciting than getting out and exploring all of the beautiful old crumbling buildings. At that point, most of them were covered in vines and looked pretty scary. Years later, I took a job just because it had regular meetings in one of the repurposed state hospital buildings. The buildings aren't as decrepit now as they were when I was a child but I've had fun exploring them. Not everything is impossible.
The Impossible Project, decided to take on the impossible task of bringing Polaroid integral instant film back from the dead. Like my quest to explore that abandoned New Hampshire hospital, their impossible dream was achieved. Even more exciting than that, is that I have one pack of Impossible PX100 black and white film sitting to my right.
From what I have seen, the PX100 is a difficult film to work with. I imagine it is something like the early polaroid roll films that required coating and were very difficult to use. I haven't shot my film yet, but from what I've seen online, it looks to me very similar to a daguerreotype or an albumin print. I like that. My plan for my PX100 is to use it to document some of the victorian eccentricities in the White Mountains.

Tufa Domes, Pyramid Lake, Nevada (King Survey)
Originally uploaded by Smithsonian Institution
Instant Photography Links